From eBay





The excellent gain and remarkable performance make the SmarTech 6 el. Yagi a superlative antenna, for important installations.

This antenna has been designed with the most modern and innovative optimization algorithms, also used for professional purposes. The numeric model has been subsequently subjected to a further iterative optimization cycle, until the convergence between numerical model and performance measured on the physical prototype.

The structure is made of high quality materials with excellent mechanical properties to give the necessary strength and resistance to wind loads.
Impedance matching is achieved by an
hairpin
(beta match) system, which makes the antenna
DC Grounded.
The system offers special protection to electronic devices against electrostatic shocks.
Antenna low noise.
The SmarTech 27Y6L can be used ends itself well for use in stack with a second 27Y6L. Further radiation patterns are provided (see attached charts) for the optimized vertical stack configuration (for different configurations or installation requirements, please contact the Technical Division of Smartech).
MATERIALS
The main structure is made of aluminum alloy EN AW-6060/82 UNI 9006/1 (Anticorodal 60/100), which provides excellent long-term durability against the most severe weather (ice, water, UV rays, fine particles, acid rain), and better resistance to heavy wind load.
The antenna is supplied with stainless steel parts AISI 304 (Inox Austenitic UNI / EN 10088) and steel S235JR2 (UNI 100 series), certified according to 2000/53 / CE + RoHs standards.
Element Insulators are made of Polypropylene PPC 5660, resistant to remarkable thermic excursions (certified for temperatures from -20°C to +130°C), with high load at break (ultimate tensile strength 25Mpa), excellent abrasion-resistant and volume resistivity > 1018

The antenna is made to obtain the maximum electrical efficiency, the best mechanical resistance and durability, thanks to its high quality materials. It is also suitable for installation in mountain areas and coastal (corrosive) areas.
SmarTech antennas are designed with the minimum necessary electrical/mechanical joints. So, parasitic resistances are the lowest possible so as to minimize unwanted RF dissipations.
Costs include proper packaging, completion of customs documentation and shipping tracking 24/7. All products are shipped with the most important and reliable international couriers.

If shipping costs to your destination are not included during the ordering process, please contact us. We will send you a quotation for the fastest, safest and cheapest shipping solution.
---
What Our Customers Say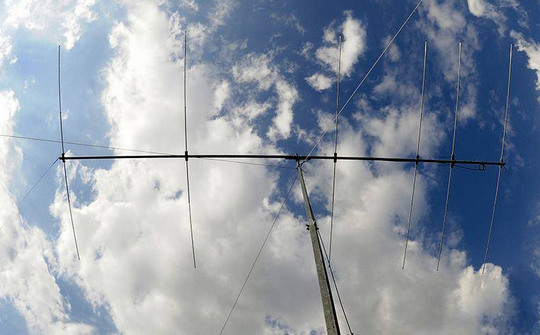 This is my superb 6 element SmarTech mounted on the pole. The structure is very strong, the best solution for my very windy location. I have been impressed for the large bandwidth, SWR was already centred on the frequency I wanted. Compared with my previous cubical quad antenna, I find signals enough stronger and the front/back & front/side attenuation also better. Happy for my new antenna, thank you all very much SmarTech.

Piero 1LR279 - Italy
The 27Y6L is an extremely performing antenna in transmission, as well as in reception, very resistant to wind ... in short: "it is the definitive antenna".

Orazio - 1SA300

eBay Feedbacks





ELECTRICAL SPECIFICATIONS
Gain
17dBi @16m (52.5ft)
Front/Back Ratio
34.1dB @16m (52.5ft)
Impedance
50 ohm
Power rating
5 kW
VSWR min. @50 ohm
1.0:1
Matching Method
Hairpin
3 dB Horizontal Beamwidth
34.1° @16m (52.5ft)
Stacked Distances
6.5÷9m (21.4÷29.5ft)
2 Stacked Gain
[6.5m/21.4ft Stacking Distance] 18.8 dBi @16m (52.5ft)
[9m/29.5ft Stacking Distance] 19dBi @16m (52.5ft)
2 Stacked F/B
[7.5m/24.6 ft Stacking Distance] 46.2 dB @16m (52.5ft)
[9m/29.5ft Stacking Distance] 31.3dB @16m (52.5ft)
PHYSYCAL AND MECHANICAL SPECIFICATIONS
Weight
23kg (50.74lb)
Boom length
9.9m (32.5ft)
Longest element
5.5m (18.3ft)
Rotation radius
5.6m (18.56ft)
Projected area [F=Flat - C=Cylindrical]
F = 0.57 m²(6.7 ft²) - C= 0.6m² (6.6ft²)
6 el. YAGI 27 MHz long boom (27Y6L)