RG-142 coaxial cable with PTFE dielectric for professional use.
The cable is provided 1 m (39'') long and, on request, also in different lengths.Headed with connectors UHF PL-259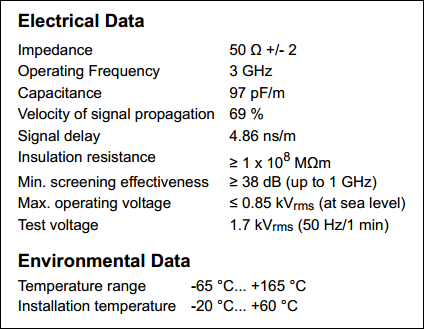 Great for its electrical characteristics and physical properties is suitable for professional device connections expecially for:
HIGH POWER (> 4 kW HF) SMALL DIMENSIONS (diameter 5 mm)
HIGH FLEXIBILITY
NARROW BEAM BENDING
LOW WEIGHTCOMMON
APPLICATIONS
HAM RADIO
PROFESSIONAL RADIO SYSTEM
WIRING HIGH FIDELITY AUDIO HI-FI
HIGH POWER ELECTRONICSMAX POWER: >4 kW in HF, 2.5 kW a 100 MHz, >1 kW a 400 MHz 1m ATTENUATION (1m): <0.07 dB in HF, 0.12 dB a 100 MHz, 0.25 dB a 400 MHz
I costi dei nostri prodotti sono compresi di packaging, imballo adeguato, gestione pratiche doganali, tracciamento 24/7 e gestione contatti con filiali internazionali del nostro vettore di fiducia."

If shipping costs to your destination are not included during the ordering process, please contact us. We will send you a quotation for the fastest, safest and cheapest shipping solution.